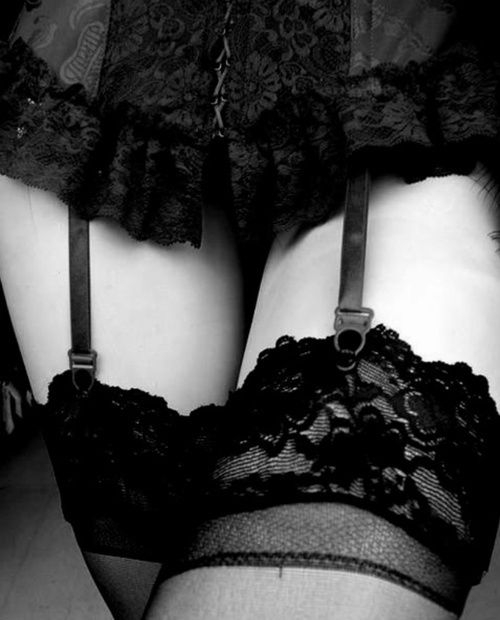 Wearing sexy lingerie under your clothes can give you a secret boost of self-confidence, wearing a garter belt will make you feel truly sexy all day. This date night, it's time to play and tap into your inner "vixen". Drive your lover wild with the erotic image of a bit of thigh peeking out between sheer stockings and a garter belt.  Men like garter belts on women. They find them sexy, exciting. There is no denying that wearing a garter and stockings will have you lover salivating all evening thinking about that area of bare thigh between the top of a stocking upward that is just so tantalizing and irresistible.
Although the infamous garter belt has been around since the 1940's , it is still seen as a sensual form of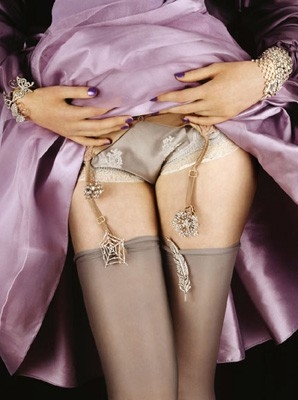 erotica. However, if wearing garters are not a part of everyday attire, why not try wearing this "sexual set-up" during your next date night out to dinner with your husband or lover and seduce them with possibilities for the evening ahead.  And if you want to add a double dose of sensuality, wear them with a pair of sexy stilettos!
One key element to buying a garter belt is to get the correct size. If you have never worn one before, visit a lingerie specialty store that offers good quality lingerie. Make sure the garter belt material is soft and comfortable for all day wear and that the clasps are durable.  Another key element to having a garter belt work for you is to purchase the right stockings. They need to be of good quality and designed to be worn with a garter belt and have a thicker band on top.  Once you find the perfect fit with the right a garter belt and stockings, you may find yourself liking the secret sexy feeling so much that you wear them every day.
https://luxuryromanceconcierge.com/wp-content/uploads/2017/02/garter-for-blog.jpg
250
350
therez
https://luxuryromanceconcierge.com/wp-content/uploads/2018/03/gold-favion.jpg
therez
2017-02-02 00:06:16
2017-02-02 00:31:33
The Unassuming Garter Belt - a Sensual Form of Erotica.