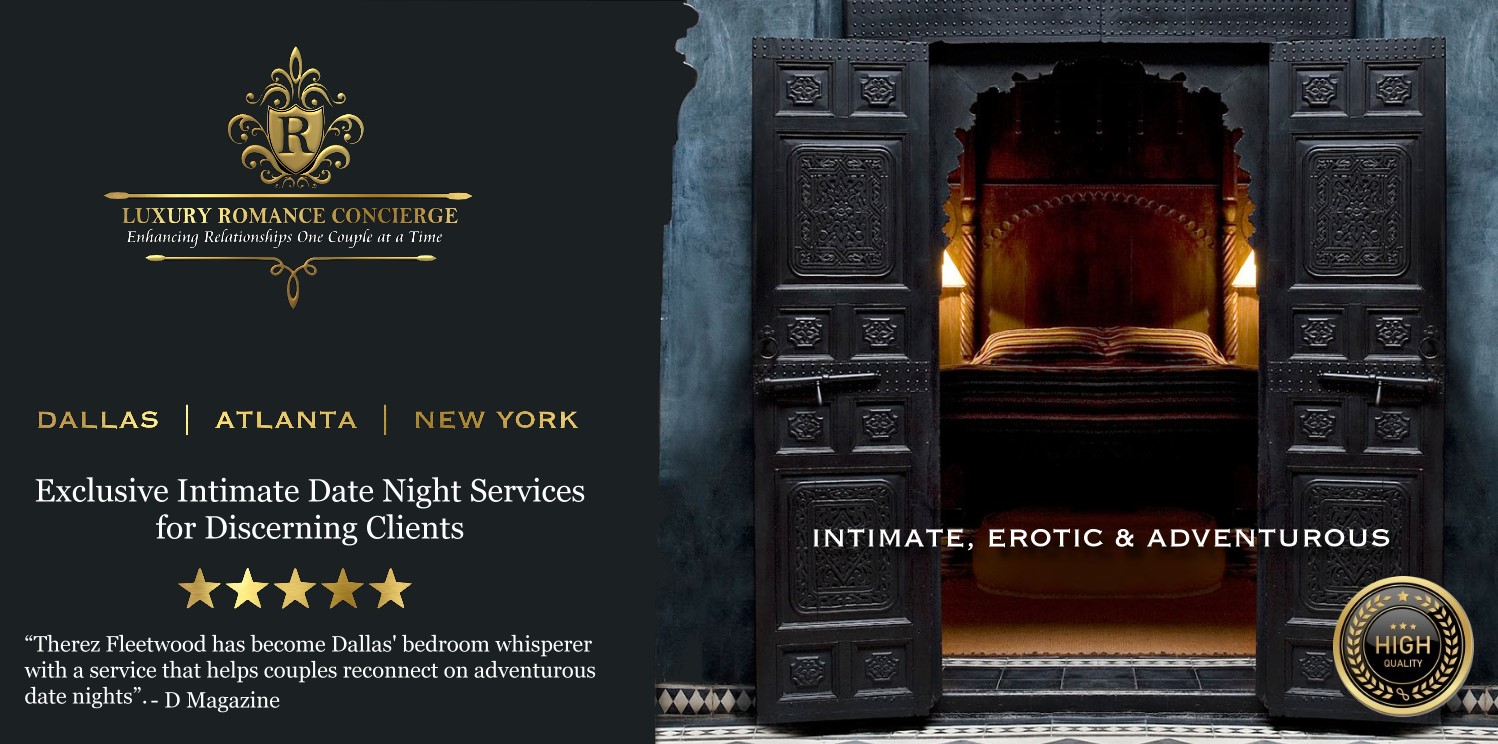 Luxury Romance Concierge™
A Concierge Service that offers an innovative and unique approach to Date Nights designed around intimate fantasy themes.

WHO WE ARE
We are an innovative and unique company that serves as a comprehensive "go-to" resource for one-of-a-kind intimate date nights designed to create even more romance, passion, and bliss in relationships. We are experts in the language of discretion and confidentiality and we offer exclusive, personalized experiences that allow couples the opportunity to slow down,  reconnect, and celebrate each other. Our motto is, "Couples Need Playtime Too!"
WHAT WE DO
As your personal concierges, our focus is to ensure our clients a stress-free evening by managing every aspect and detail of the planning process, from the morning you wake up until you check into your luxury hotel room. Our date nights are designed around foreplay, fantasies, and fetishes. Themes include; The Art of Seduction, Role Play, and  A Night of Kama Sutra. We provide personalized assistance in a wide range of tasks, all carried out in a sophisticated manner.
WHY HIRE US
Couple's lives are more complex and they are busier than ever and oftentimes they have the perfect date night planned in their head, but no time to execute it. Discretion is the backbone of our company, and we believe that the most important work is done behind the scene.  We go above and beyond your expectations to assure that you have an unforgettable night with your spouse or partner. Confidentiality and absolute privacy are the core values of our company.
OUR COMMITMENT

TO YOU
We know delegating personal tasks is not easy. It requires a great deal of trust, absolute confidentiality, and masterful efficiency.  As our client, we help manage all aspects of your date night.  Whether you choose to surprise your spouse or partner or have them involved in the planning process, we've got you covered.  We will run you through the plans prior to the day so you own the idea and can confidently execute it and pass it off as your own. We are your romantic personal assistants, working behind the scenes so no-one will know we were ever involved.

Who Are Our Clients?
Couples who are looking to kick up their date nights a notch.

Couples who want to try something new but don't know where to begin.

Couples who just don't have time to plan a romantic intimate evening.
Our Client's Traits and Characteristics
They want to spend quality time together.

They want to enhance their intimacy.


They want to strengthen their relationship.

They want to try new things in the bedroom.

They want to reconnect.
"We create the experience, you enjoy the memories!"